WHAT THEY'RE SAYING ABOUT NORTHWOODS PULP RELOADED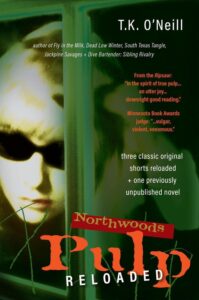 Capturing the raw energy, resilience, and murky lawlessness of a bitter wilderness, Northwoods Pulp Reloaded by T.K. O'Neill is a stirring and wild collection.
Three intensely told stories capped off with a visceral crime novella, this is a seemingly easy escape read, but the writing is smart and deeper than expected, from high-stakes morality parables to and illicit adventures that quickly get out of hand. O'Neill focuses a bit more on fast-talking dialogue and action sequences than he does on character development, but the world-building is immersive, with colloquial bits of nuance and detail that make the rugged scenes come alive.
The narration and internal monologuing of characters is strong and bold, particularly in the novella, but the dialogue does come off hackneyed at times. However, these stories are ripped from the gritty edge of experience, and even the rougher edges of writing reflect that source material. Told with a reverence for the culture, traditions, and demands of a part of the country that most will never experience, this homage to cold-weather rebels makes for a thrilling read overall.
For any reader who has ever pointed their fortunes north and let their moral compass waver, or loves reading about well-crafted antiheroes, O'Neill's collection is an intense but entertaining dive into another world.
WHAT THEY'RE SAYING ABOUT T.K. O'NEILL
From the Ripsaw:  "In the spirit of true pulp… an utter joy… downright good reading."
From the University of Minnesota Duluth Statesman:   "… immensely entertaining…"
From the Northland Reader:   "… great hard-boiled writing…"
From Murphy McGinnis Newspapers: "Ray Bradbury said zest and gusto are among the most important elements to a writer's makeup. (O'Neill)… may never have read this advice, but he writes like he has. His work sparkles with gusto…"
"(O'Neill) writes his tales from the dark side well.  His dialogue, in particular, sparks with life, and… the clever by-play between characters drives the plot and develops the characters expertly."
"Another of (O'Neill's) strengths is his action scenes—and there are a lot of them, as you'd expect with violent and unpredictable characters. His pacing is immaculate, and he handily transitions between introspection, slow scenes and pulse-pounding action."
"(O'Neill) followed his loves and his hates into a book that holds your attention and enters your psyche.  It presents a coherent, if nasty, picture of the human condition and the world we live in."
"Frankly, a lot of writers don't get as far as (O'Neill) did… having something to say and saying it with a little zest and gusto."
From The Paper, Grand Rapids, Michigan:   "This collection of short stories is like a peepshow curtain pulled back. You don't want to look, but you can't help it. And, when you do, your disgust is tempered by an amazement that makes you want to look – just a little bit more. There are few heroes— at least not the kind who get the girl, the house or win the lottery."
…. a lean style that he uses well to establish the outlines of his characters early in the stories. Over the course of a few pages he artfully fills in those sketches, refusing to "stay inside the lines." His laconic descriptions of failed schemes and skewered lives result in wonderfully entertaining tales about the perils and pratfalls of a menagerie of people that can't help but make you feel better about yourself."
"These tales are full of people who live their lives to the fullest, in a bizarre way – and examining where, exactly, they end up can be disturbing. Their dreams, often, are the things that make up nightmares for "normal" people. But his characters are the real McCoy…"
From SHOTS Magazine, UK, reviewed by author Russell James:   "Four tales of the coldest North American states… crammed with hard men, hard language, snow and speed.  The backgrounds are good – low bars, cheap diners, empty motels, lonesome shacks – and the characters are tough and quick with their firearms…  These are punch and shoot 'em stories, make it up as you go along; tough and for all we know, authentic … (O'Neill) can write…"
From judge's comments at Minnesota Book Awards: "…vulgar, violent, venomous."
From Canadian Chapters.Indigo review: "A beautiful scene in the wilderness—hiding some grisly secrets… mystery writer (T.K. O'Neill) combines the traditional hard-boiled style of James Cain to create a harrowing story of devil worship, death, lawlessness and crime…"
From SHOTS Magazine, Great Britain, reviewed by Mike Stotter, Editor:   "….His writing is dark and twisted, like his characters.
From Reader Weekly:   "…a part of O'Neill's talent… a character that no one likes but everyone wishes well."
"You won't come away with a warm feeling for the Sunshine State… if anything, you'll realize how the suffocating heat of the humid Southland seems to encourage slithering snakes and festering parasites."
From Murphy McGinnis Newspapers: "(T.K. O'Neill) throws worlds of hurt at his ne'er-do-well characters… in the spirit of Raymond Chandler… his writing process builds on trouble… the underside of the American Dream… a perfect example of noir…"
From The Corresponder (Minnesota State University):  "(O'Neill) is a writer who isn't afraid to take chances with his story. There are no good guys or bad guys here. (O'Neill) lets his characters run wild and take the reader on a fast paced ride. Feels like classic crime noir with the insanity of a mental ward tossed in for good measure."
From the Lake Superior Sounder:   "…his prose soars fast and high and reflects a keen eye for character, plot and setting, and follows the most convoluted stream of events with ease."
From barnesandnoble.com, reviewed by Kim Lamson-Scribner:   "(O'Neill's) talented writing is not for the fainthearted of rough talk and experience.  He gives keen insight to the exterior and interior world of a lost man."
"While the language and environment are in rough-hewn speak, (O'Neill's) writing has an underlying elegance and his characterization a developed depth.  There is some playful surface dry humor weaving in and out of a tough world context.  Expressed through the series and in this book is a substantially perceptive sense of humanity and lost humanity."
"While on a wholly different track, and in a style all his own, there are darkened shades reminiscent of David Lindsey, James Lee Burke and John D. McDonald in the Keith Waverly series."
To contact Bluestone Press or T.K. O'Neill, email bluestonepress@outlook.com or call 218.724.5806